Worker challenges addressed at regional economic event hosted by JMU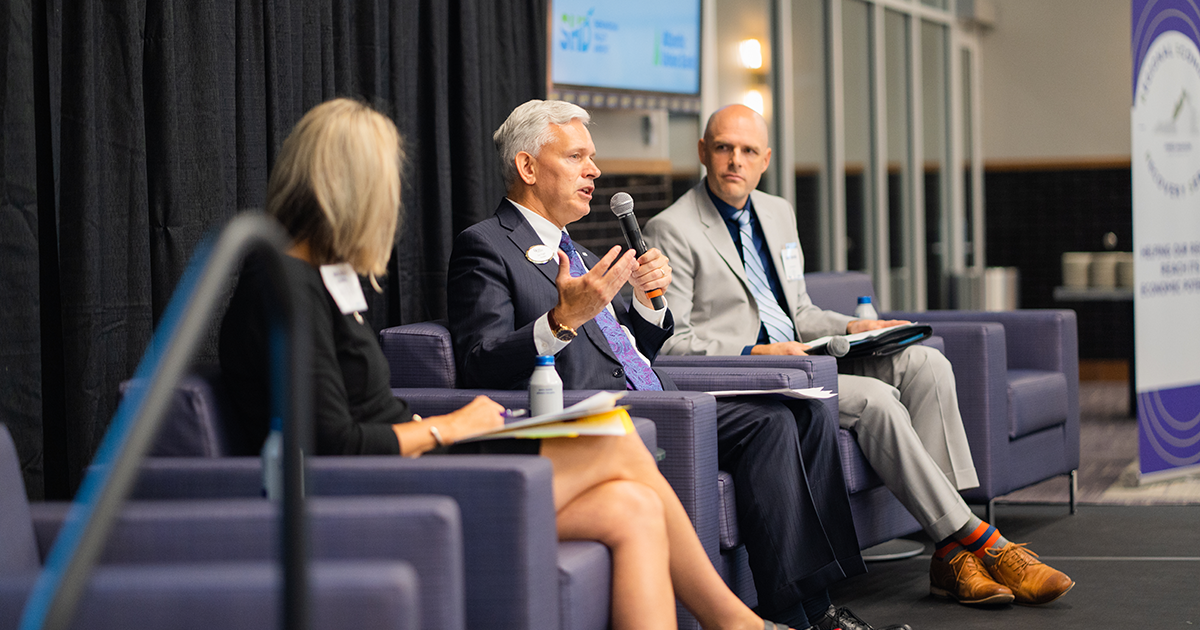 Harrisonburg, Virginia — Business, industry, nonprofit and government leaders from across the Shenandoah Valley have banded together to find solutions to some of the most pressing challenges for economic development in the region. Under the Shenandoah Valley Collective Action Pact, more than 120 members from the private, public, nonprofit and higher education sectors are crafting a new model for economic success.
Pact members have committed to working across sectors and collaboratively on workforce initiatives, but also challenges such as transportation, housing and childcare. They came together on August 23, 2022 for the 2nd annual Regional Economic Recovery Series at James Madison University to share best practices and discuss options for tailoring programs to fit the specific needs of the Valley. 
"The convening of regional stakeholders to identify ways to work together as a region is powerful and it's a role we feel JMU is uniquely suited to play as an anchor institution in the community," said JMU President Jonathan Alger.
Pulling from national trends, best practices at the state level and local pilot projects, the group is focused on how to advance solutions for workforce issues that cross jurisdictional boundaries: 
Regional workforce initiatives: Worker shortages cannot be easily solved, but there are initiatives that have been piloted, proven successful and are now being scaled for larger implementation – apprenticeships and skills academies among others.
Transportation: Reliable, affordable, on-time transportation for employees is essential to business function. Employment transportation services, from ride shares to company-sponsored services have been shown to improve retention, positively affect the bottom line and improve quality of life for employees.
Housing:  Virginia's housing shortage, particularly affordable housing, is jeopardizing employers' ability to attract and retain workers, while also putting many existing employees at risk of housing instability. Zoning can provide opportunities. 
Childcare: A lack of affordable care options and care openings, including for shift workers outside the traditional 9 a.m.–5 p.m. workday, has led to innovations in care, including joint company-anchor institution care arrangements. 
"Together we're taking a new approach. We're building and testing a model that is focused not just on economic recovery, but long-term economic resilience for the region. The appetite is there to address worker issues in a way that will transform business and also the lives of those who live in our communities. Our hope is that this model can be scalable and replicable," said Dr. Nick Swartz, associate dean of the School of Professional and Continuing Education at JMU. Swartz oversees a number of university-wide economic and community development related initiatives and projects.
###
Working groups have been developed to address each of the challenges mentioned above.  Chairs are available to discuss best practice findings, innovations and next steps: Vici Garber, regional specialist with Shenandoah Initiative for Adult Education (workforce initiatives); Ben Craig, executive director of Way To Go, Inc. (transportation); Dany Fleming, chair of Harrisonburg Redevelopment and Housing Authority (housing); Chris Quinn, president and CEO of Harrisonburg-Rockingham Chamber of Commerce (childcare). Please contact, Ginny Cramer, cramervm@jmu.edu to arrange an interview or to request photos of the event.