Searing heat for Edmonton Humane Society dog dive, Alberta Day events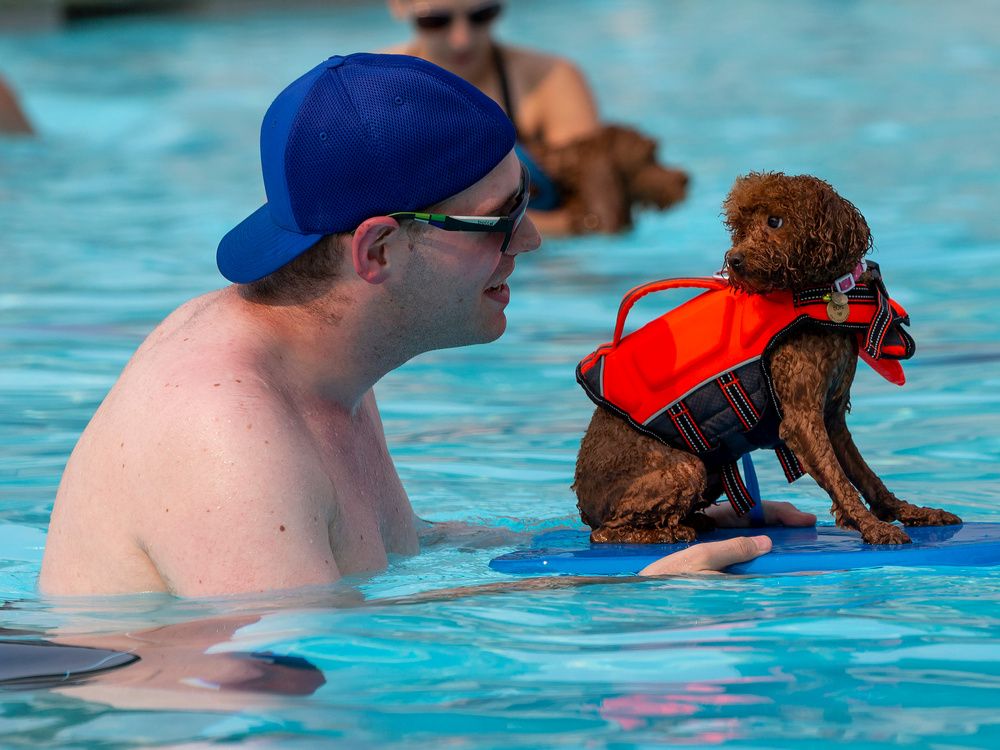 Article content
While Edmontonians looked for ways to beat the sweltering heat Saturday, dozens of their four-legged friends cooled off by doggie-paddling in the Oliver Outdoor Pool.
Article content
The Edmonton Humane Society held its dog dive event, the only day of the year pups can play in the pool, while the city was under a heat warning, and Environment Canada was forecasting a high of 34 degrees C.
Article content
Human society CEO Liza Sunley said at the event, being held for the first time since 2018, it's hard to tell whether the dogs or the people are having more fun celebrating the end of summer.
"The smiles on their faces are equally huge," she said as a golden retriever in a life jacket chased a tennis ball into the water.
"When you're combining pets and water and people and a beautiful sunny day, it's hard to compete with something like that," Sunley said.
Advance tickets were sold out but Sunley said the temperature didn't put a damper on the event, with hundreds of dogs and people dropping in. It's expected to raise more than $2,000 to support the humane society, which cares for thousands of homeless, neglected and abandoned animals each year. Sunley encouraged those thinking seriously about adopting an animal to visit in person or check out the Edmonton Humane Society's website at edmontonhumanesociety.com.
Article content
Sunley said Saturday was the first time some dogs have been in the water.
"They felt really safe doing so because we've got those experts on hand to be able to help them out," she said, adding that there's probably going to be 'quite a bit of fur' in the water filters by the end of the day, when the pool will be closed down for the season.
"Not having it for a few years definitely, definitely added some excitement this year."
Those looking for relief from the heat in the city hall fountain were also treated to an Alberta Day celebration in Sir Winston Churchill Square and City Hall Plaza on Saturday. Officially on Thursday, Alberta Day is not a statutory holiday but the weekend events from 1 p.m. to 4 p.m. promised free ice cream, games and activities like giant chess and checkers, food trucks and musical performances.
A free event at the legislature grounds, including kids activities, a beer garden and food trucks, will wrap up with a performance from Alberta-born country artist Brett Kissel at 8:30 p.m. and a fireworks show at 9:30 p.m. 
lijohnson@postmedia.com