Peruvian Prime Minister targeted by prosecution probe — MercoPress
Peruvian Prime Minister targeted by prosecution probe
Friday, October 20th 2023 – 10:41 UTC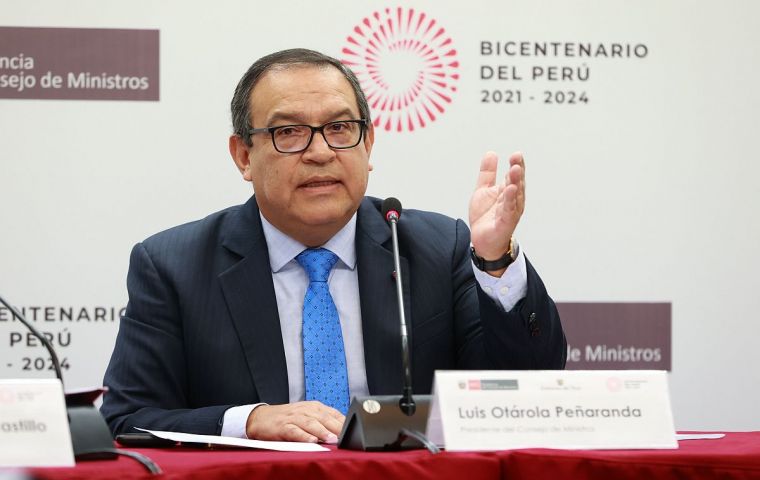 Peruvian prosecutors have opened an investigation against Prime Minister Alberto Otálora for his alleged involvement in acts of corruption, it was reported Thursday in Lima.
Otárola allegedly benefited from the awarding of a contract to a company that would provide services to the state.
The investigation focuses on the alleged irregular hiring of Rosa Rivera Bermeo in the National Commission for Development and Life without Drugs (Devida), a public agency attached to Otárola's office, known as the Presidency of the Council of Ministers (PCM), which is in charge of the national strategy against drugs.
The Public Prosecutor's Office "has opened a preliminary investigation against Luis Otárola, President of the Council of Ministers, as alleged instigator of the crime of collusion, simple and aggravated modalities, to the detriment of the State; for the alleged hiring of Rosa Rivera Bermeo in Devida," according to its own publication on X.
This alleged corruption scheme was made public during a broadcast on September 17, in which Rosa Rivera and Yaziré Pinedo were said to have met with Otárola in December 2022 and March 2023, after which two contracts were signed for an amount close to US$7,000. Pinedo also received contracts with the Ministry of Defense worth about US$13,500, according to the report.
Also implicated in the investigation are Devida chief Carlos Figueroa and manager Martin Villafuerte.