Haters Meltdown Over Real Housewives of New York Casting of Proud Jew Lizzy Savetsky
Earlier this week, Andy Cohen announced the cast of the reboot of the reality show "Real Housewives of New York City," of which he is the executive producer.
One of the new "Housewives" is 'influencer' Lizzy Savetsky, who is a very outspoken proud Jew and Zionist – as her Instagram profile mentions:

She also is an observant Jew, who regularly posts about religious practices.
Naturally, the haters have picked up on her love of Israel and Israel advocacy, and have filled social media with their bile. Here is but a sample: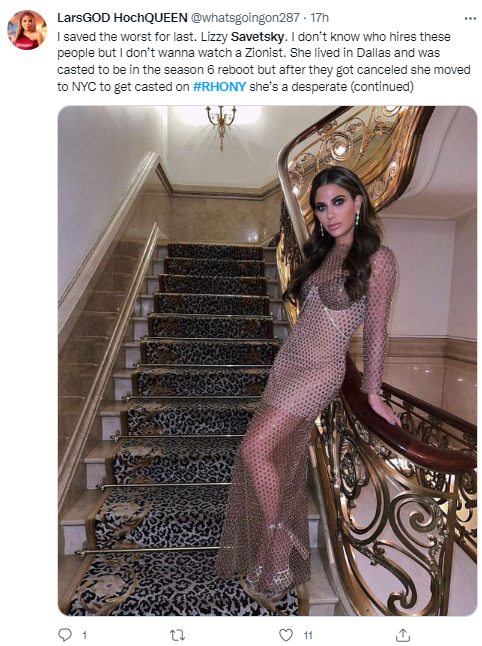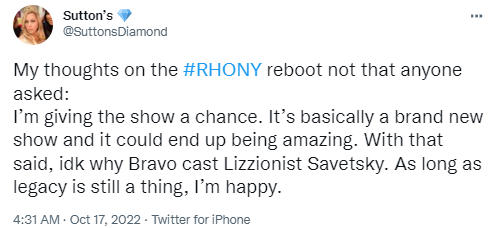 Not how the above social media users just mention 'Zionist.' But it is clear that the real issue here is that Lizzy is a proud Jew, with other haters trying to distinguish between Zionism and Judaism: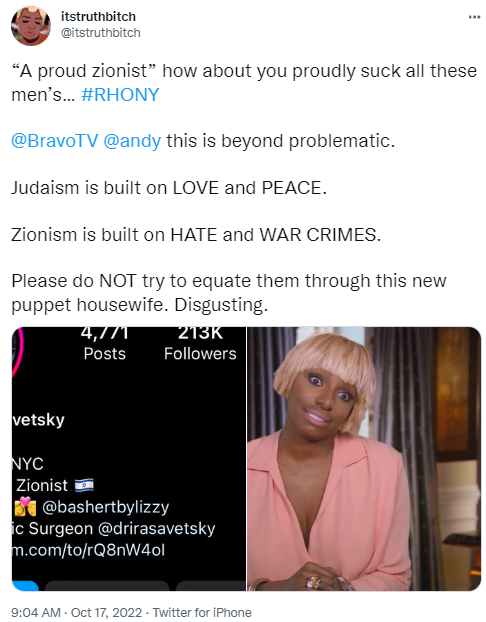 Note that last tweet; while trying to suggest a difference, she throws in "radical religious woman." It is clear the idea of proud, religiously observant Jew is an anathema to her (in fairness, secular Jews are probably also an anathema).
The vile responses to the announcement of Lizzy being a cast member is likely what led Andy Cohen to tweet this:
which has only fueled more hate by the "anti-Zionists-not-antisemites":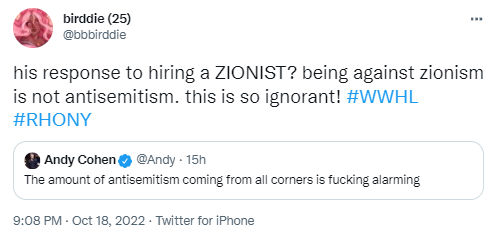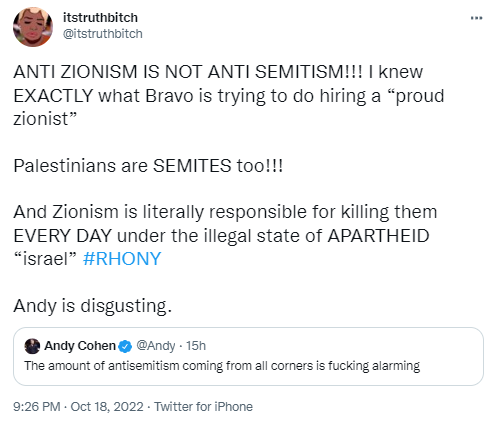 Most, if not all, of these haters do not even know what Zionism really is, and how integral to Judaism it is. Even if they did, they would likely still spread hate against us. They do, after all, accept pernicious lies about the Jewish state without blinking an eyelid, and support those murdering us. There is a word for believing the worst about Jewish people.
What these haters do know is that it is not yet fashionable enough to go after Jews as Jews, although as Kanye-gate has shown, it is fast becoming that way.

Tags: Andy Cohen Anti-Semitism Israel Lizzy Savetsky Real Housewives of New York