German Chancellor Calls for Deeper Trade Ties With Vietnam – The Diplomat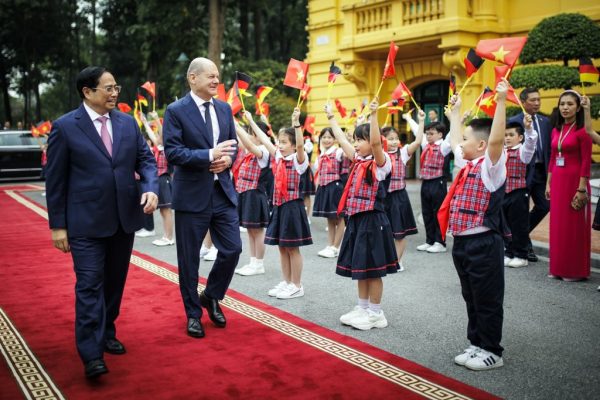 Germany will seek to deepen its energy and trade ties with Vietnam, the country's Chancellor Olaf Scholz said during a visit to the country on Sunday, the first stop on his three-nation tour of Southeast Asia.
Scholz's trip to Vietnam, which preceded a stop in Singapore and his attendance at this week's G-20 leaders' summit in Indonesia, saw him welcomed with military honors by Prime Minister Pham Minh Chinh before meeting Nguyen Phu Trong, the head of the Vietnamese Communist Party (VCP).
Perhaps unavoidably, the Russia-Ukraine war featured in the discussions, with Scholz pressing his Vietnamese hosts to take a "clear position" on the conflict, Deutsche Welle reported. "It is a question of the Russian war of aggression being a breach of international law with a dangerous precedent. Small countries can no longer be safe from the behavior of their larger, more powerful neighbors," the German chancellor said at a joint news conference with Chinh.
But the fact that Scholz was accompanied to Hanoi by a 12-member business delegation indicates the extent to which the primary focus of the trip was economics.
At a joint news conference with Chinh, Scholz said Berlin was hoping to develop deeper trade relations with Hanoi and would support the country's transition to a greener economy. He also mentioned that Germany would help expand Hanoi's stalled metro system. In a tweet yesterday, Scholz wrote that his country was seeking to "expand our sales markets, raw material sources, and production sites" to make it "more independent of individual states."
The trip reflected both the increasingly prominent place that Vietnam occupies in global supply chains, and the newfound interest that many German firms have in expanding their presence beyond China, amid the mounting tensions between Beijing and the West.
Indeed, Scholz's trip, the first to Vietnam by a German leader in more than a decade, came fast on the heels of his visit last week to China, the first by a Western leader since the start of the COVID-19 pandemic. Coming after the war in Ukraine has revealed the folly of his predecessor Angela Merkel's no-hassle policy toward Russian energy imports, the trip prompted criticisms from many Western observers that economic interests were preventing Berlin from seeing the threat posed by Xi Jinping's China.
Politico quoted critics as saying that Scholz is "making exactly the same mistakes of overreliance on China as Berlin previously made with Russia." For his part, the chancellor said that Germany would seek to toe a middle path. In a recent op-ed, he argued that "new centers of power are emerging in a multipolar world, and we aim to establish and expand partnerships with all of them."
He said that Berlin had "no interest in seeing new blocs emerge in the world" and that China's growing power and influence "justifies neither the calls by some to isolate China, nor a quest for hegemonic Chinese dominance, or even a Sino-centric world order."
Given this background, the focus on Vietnam makes sense – for the German government and German industry alike. Vietnam is Germany's most important trading partner in Southeast Asia, and according to Reuters, about 500 German firms now operate in the country, including 80 that have set up manufacturing plants there. At the same time, Germany is Vietnam's second-largest trading partner among the European Union member states after the Netherlands.
The head of the German chamber of commerce in Vietnam, Marko Walde, told Reuters that increasing numbers of German companies are looking to diversify some of their activities away from China. More than 90 percent of firms planning such a move look at Southeast Asia as their preferred choice, with Vietnam and Thailand among the leading options in the region.
To be sure, as in its relations with Beijing, Berlin will be forced to finesse the obvious tensions between its business interests and avowed commitment to human rights principles. In addition to the generally repressive political climate, in which scores of Vietnamese dissidents and political activists have been arrested over the past several years, the brazen kidnapping of Trinh Xuan Thanh, a fugitive Vietnamese state company official from a Berlin park in 2017, led to a chill in relations between Vietnam and Germany.
For Vietnam, the increased attention from Germany has a few downsides. Over the past five years, the country's economy has benefited as Western firms have sought to reduce their economic reliance on China-centered supply chains – a process that is only set to continue given the current chill between Xi's China and the West. This offers another reminder that while the Vietnam's crushing geographic, political, and economic proximity to China brings great risks, the rewards can be considerable as well.