Economists see inflation breaching 7% in October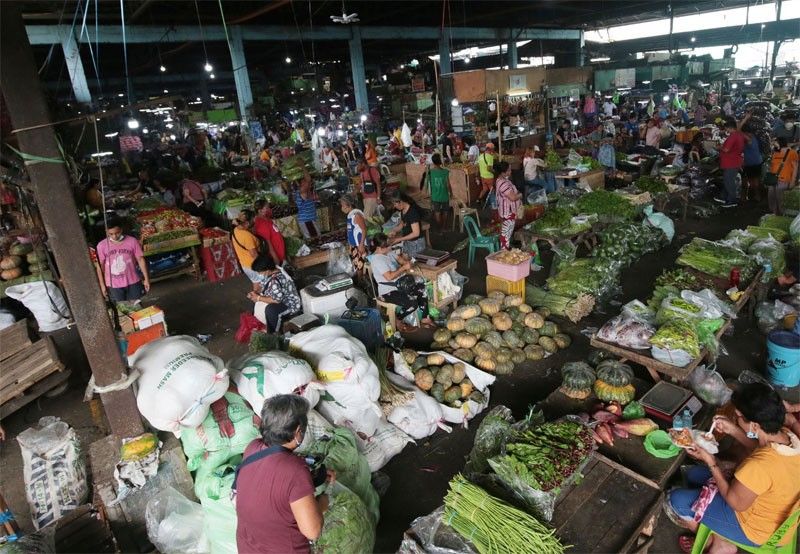 October 30, 2022 | 12:00am
MANILA, Philippines — Inflation likely accelerated further in October, breaching the seven percent mark after quickening to a four-year high of 6.9 percent in September from 6.3 percent in August, economists said.
China Bank chief economist Domini Velasquez said inflation likely reached 7.3 percent in October as increasing prices of food such as meat, fish, vegetables and sugar, and a new round of transport hikes, pushed up the headline figure.
Velasquez said non-food items are expected to continue the same measured pace as the previous months due to the broadening of secondary round effects, affecting transport fares and other services, such as restaurants and accommodation.
"Outside any other unanticipated shock, we think that inflation has likely peaked and we expect the rate of growth to slowly decelerate in the coming months until it reaches the BSP's target of four percent by the second half of 2023," she said.
According to Velasquez, key risks include the inability of the government to address current and potential shortages and the possible increase in electricity rates.
The proposed increase in water tariffs next year, Velasquez said, could push up the 2023 average inflation above the two to four percent target of the Bangko Sentral ng Pilipinas (BSP).
ING Bank senior economist Nicholas Mapa also expects inflation to hit 7.3 percent and core inflation to accelerate to 4.7 percent in October.
"Follow-through price increase for food items due to storm damage will lift inflation on top of the usual commodity surge-induced price hikes. Transport fare adjustment also kicked in by October," Mapa said.
The Dutch financial giant now expects the BSP to raise key policy rates by another 125 to 150 basis points after BSP Governor Felipe Medalla stressed the need for the country to match the hikes of the US Federal Reserve point by point.
"The BSP has communicated clearly that it will match the US Fed point by point.  Given our outlook for a 75-basis-point rate hike by the Fed in November and a 50- to 75-basis-point rate hike in December, we expect that the BSP will raise rates to 5.5 to 5.75 percent by year end," Mapa said.
The BSP already hiked interest rates by 225 basis points this year, wiping out the cumulative 200-basis-point cut in 2020 as part of its COVID response measures. This brought the benchmark interest rate to 4.25 percent, the highest since the 4.50 percent in June 2019, from an all-time low of two percent.
Security Bank chief economist Robert Dan Roces said inflation may have reached 7.1 percent in October.
"The October print may be the peak in the current run-up of consumer prices. However, inflation may be slow to recede and likely fall back into the two to four percent target range of the BSP only by mid-2023," he said.
In terms of proportion in the October estimate, Roces said the food basket is estimated to have contributed 3.1 percent, utilities by around 1.6 percent, and transportation by 1.2 percent.
"As such, price pressures remain tilted from the cost-push side, although a pre-holiday pickup in demand means core inflation will remain elevated," he said.
UnionBank chief economist Ruben Carlo Asuncion sees October inflation topping seven percent.
"Inflation is expected to peak in October within the range of seven to 7.3 percent year-on-year before ending the year in the range of 6.4 to 6.6 percent. It's been a recurring theme in our monthly forecasts of headline inflation staying above six percent for the rest of the year," Asuncion said.
The UnionBank economist cited the ongoing pass-through effects of elevated food and energy costs since the start of the year but perhaps at a slower pace as well as typhoon Karding's impact on food prices.
Asuncion also noted that softer oil prices moving forward is still in play and expects the BSP to mimic the US Fed rate hikes.
Michael Ricafort, chief economist at Rizal Commercial Banking Corp., said inflation likely quickened at more than seven percent in October and could start to ease gradually thereafter.
Ricafort said inflation could even ease year-on-year significantly, especially starting the first quarter of next year due to higher base effects as global crude oil prices corrected lower to $88 per barrel after peaking in early March as an offshoot of Russia's invasion of Ukraine.
However, this could be offset by some seasonal increase in demand and prices of Christmas holiday-related products toward December, but only to ease/go down after the holiday season by early January.
Ricafort also noted that the peso exchange rate already stabilized after hitting a new all-time high of 59 to $1 and could help ease import prices/costs and overall inflation.
Inflation averaged 5.1 percent from January to September as it continued to breach the central bank's two to four percent target.