"Carpet weaving" east of the Euphrates: Iranian proxy groups expand their influence in Syria's Hasakah Province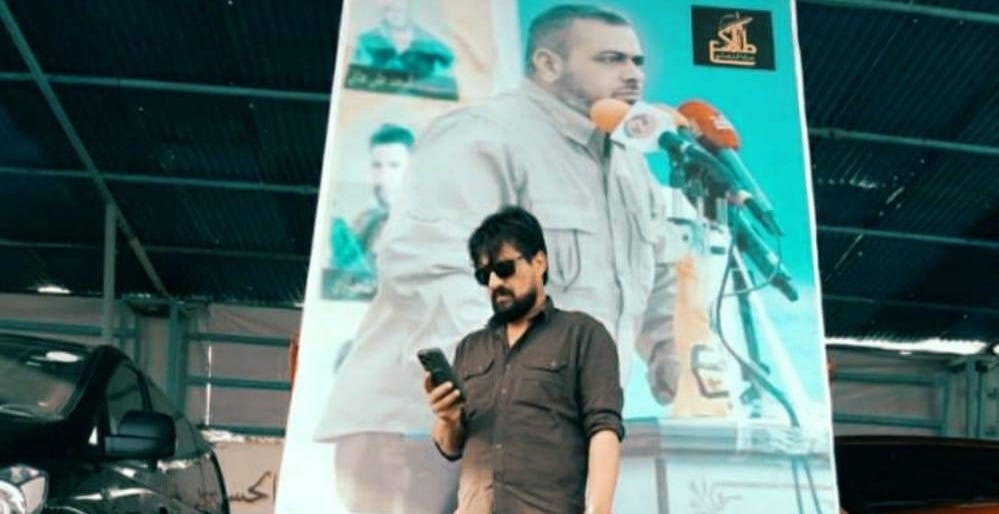 اقرأ باللغة العربية
On Aug. 22, the northeastern Syrian city of al-Hasakah was inundated with leaflets condemning creeping Iranian influence in the area. The printed messages were plastered around several highly sensitive locations in the city center, including the local branch of the Ba'ath Party, the neighborhoods of al-Matar and al-Mahatah, as well as near the Great Mosque and market streets. Known colloquially as the "security square," this area is under the control of the Syrian Arab Army (SAA), other regime security branches, including the Military Intelligence Directorate, as well as the National Defense Forces (NDF), a pro-government militia. Each of these groups has come under Iranian influence since the start of the Syrian war and today provides shelter for Iranian militias in the city and throughout the wider province.
Entitled "Hasakah is ours," the distributed leaflets contained a statement from local residents urging tribal dignitaries and the people of Hasakah to reject Iranian and Hezbollah expansion on the ground. "The activities and violations committed by the Iranian militias pose a threat to the social and tribal fabric of Hasakah," the leaflets proclaimed, contending that Iran and its allies aim to weaken Hasakah society in order to facilitate the recruitment of locals for their cause.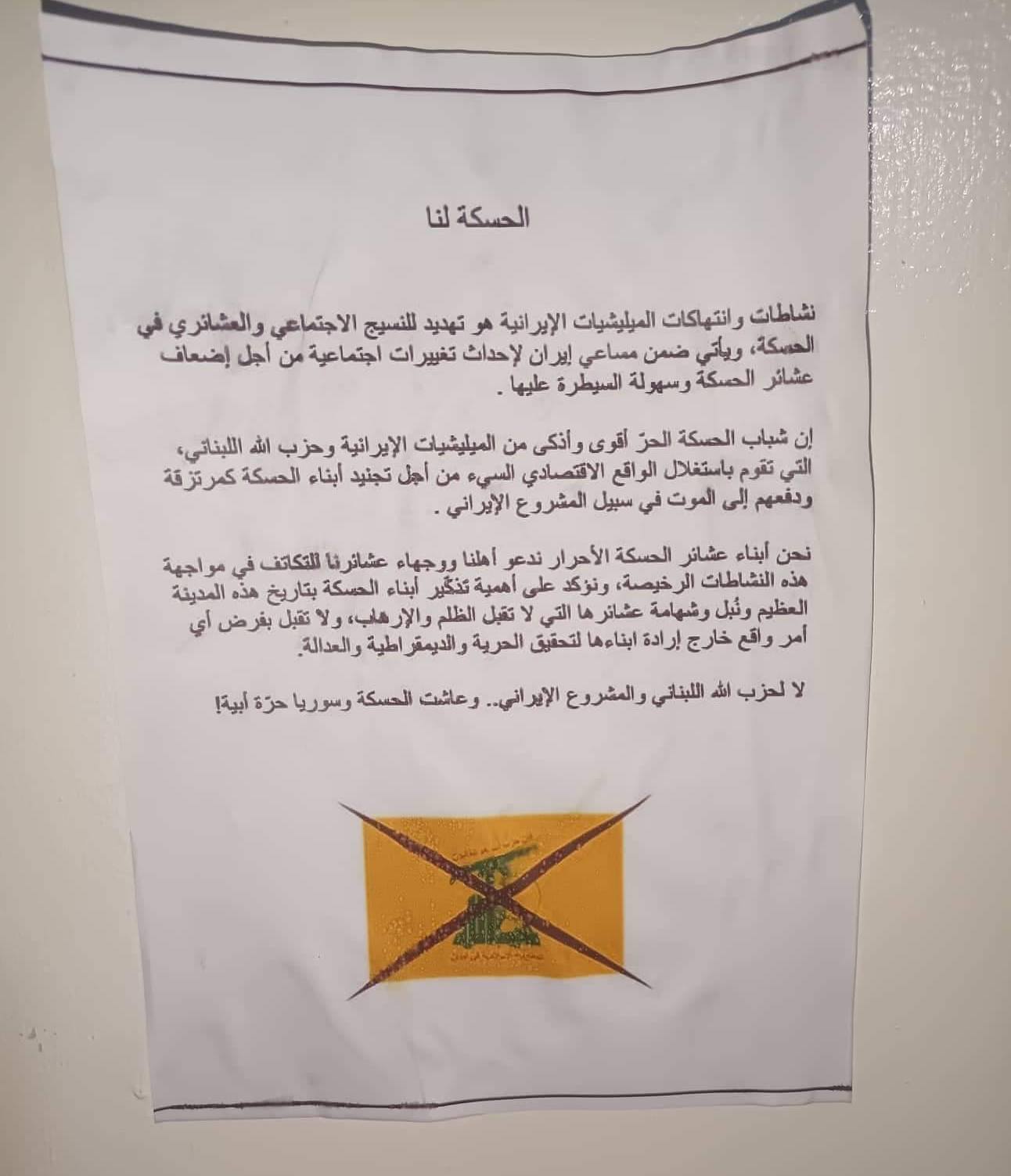 This was the second time this summer that such anti-Hezbollah and anti-Iranian leaflets had been distributed within the city. Activists first dispersed leaflets on June 28, which exposed Hezbollah's presence and activities inside the security square controlled by the Syrian regime. The individuals behind this campaign remain, understandably, anonymous out of concern for their safety; however, this second round of leaflets suggests a strong anti-Iranian sentiment among Hasakah's population, even at a time of increasing instability.
Iran and Hezbollah: Exploiting military tensions and opening the door for recruitment
With the help of its proxies on the ground, Iran is attempting to exploit tensions along the northern Syrian border between the Turkish Army and affiliated forces, on the one hand, and the Kurdish-dominated Syrian Democratic Forces (SDF), on the other, by deploying more military and logistical reinforcements into northeastern Syria. Notably, Iranian proxies have embedded their personnel within SAA units sent to reinforce Hasakah Province in recent weeks.
According to local sources, Iran has also opened new recruitment centers in the countryside to the south of the city of Qamishli. Run by Hajj Mahdi, the local commander of Lebanese Hezbollah and the representative of Iran's Islamic Revolutionary Guard Corps (IRGC) in Hasakah, these recruitment centers aim to attract new members with promises of salaries of $100 per month. These efforts have already succeeded in recruiting over 1,200 individuals into what is known as Hezbollah's Task Force. Along the M4 Highway, Mahdi is trying to open two headquarters: a transportation office for Task Force commanders as well as an arms depot and training center for new fighters.
Despite facing some resistance from the Russian-aligned NDF commander in Qamishli, Mahdi appears to have quelled any opposition to his recruitment drive. In a sudden recent change of personnel within the NDF, facilitated by Mahdi, Col. Ahmad al-Hasan was dismissed and replaced by Hassan al-Salloumi, a known associate of the IRGC. Such appointments indicate Mahdi's growing influence in the region despite scrutiny about Iran's presence there.
The IRGC inaugurates a headquarters for Saraya al-Khorasani in Hasakah
Private sources from inside Hasakah City have recently confirmed that Saraya al-Khorasani, a group originally affiliated with the IRGC in Iraq, has opened a new headquarters inside the city with the aid of local NDF commander Abdulkadir Hamo. Prior to the inauguration, Mahdi visited the center alongside the Iraqi commanders Ahmed al-Kinani and Abu al-Hassan to facilitate its opening and strengthen his relationship with Hamo.
Hamo, known among Hasakah residents for his alleged involvement in drug trafficking and distribution, is supported by the growing contingent of Saraya al-Khorasani personnel as well as by Hezbollah members already in the area. Recruitment for both groups remains ongoing. Local sources estimate that the number of Hezbollah affiliates within Hasakah City is over 200 and the number of new recruits for Saraya al-Khorasani to be around 50.
Cooperation between the NDF and Saraya al-Khorasani is clearly evident, with images of Hezbollah leader Hassan Nasrallah, former IRGC Quds Force chief Qassem Soleimani, and Saraya al-Khorasani head Ali al-Yasiri Abu al-Qassim appearing on NDF vehicles. Pro-Iranian slogans and Iraqi chants praising the Popular Mobilization Forces (PMF) can also be widely heard in the security square.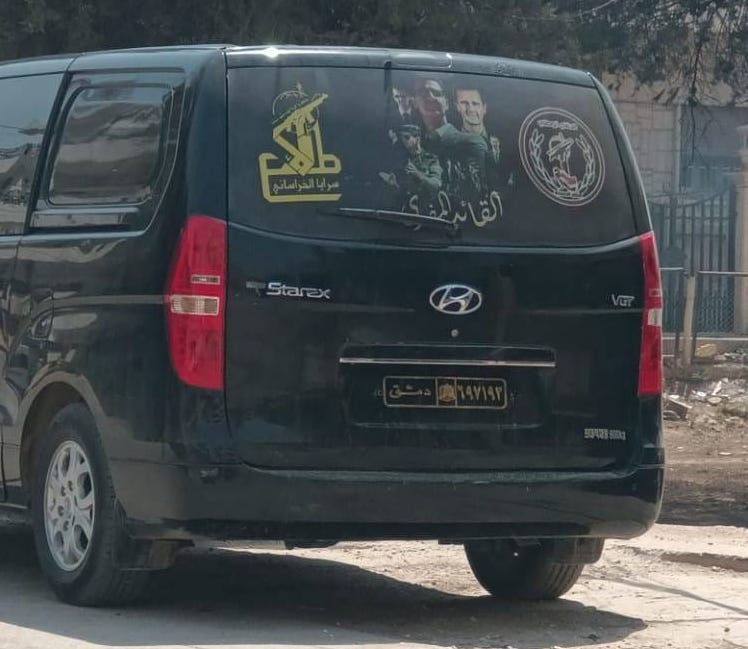 Saraya al-Khorasani was founded in Iraq in 1995 and is currently led by Ali al-Yasiri. It is directly affiliated with and has the same slogan as the IRGC. The brigade is known for its absolute loyalty to Wilayat al-Faqih, or the Guardianship of the Jurist, the religious concept promoted by Ayatollah Ruhollah Khomeini that underpins the Islamic Republic of Iran's system of government. Iraqi sources indicate that the brigade played a direct role in killing protesters during the 2019 protests in Baghdad. The faction was also active in Syria in both Damascus and Aleppo.
Threats to US forces and exploitation of tribal networks
Tensions, such as those between the U.S. and Iranian militias within Deir ez-Zor, appear to be only the beginning of escalating hostilities within the region. Civilians and sources on the ground have witnessed an increase in attacks targeting coalition and SDF bases and patrols.
Iran aims to disrupt U.S. forces in the region, as made clear by the incursions of Iranian affiliates in Hasakah's city center as well as efforts to recruit hundreds of tribesmen into IRGC-affiliated brigades. Iraqi, Iranian, and Lebanese commanders stationed throughout Hasakah City and the wider province are working to attract new recruits to "liberate" Hasakah from the hands of the SDF and expel U.S. forces. This serves Iran's ultimate aim of extending its control and influence within the area.
A source within the NDF confirmed that the Iraqi commanders who recently visited the province claim they intend to take on U.S. and SDF forces. The source also mentioned that military vehicles as well as heavy and medium weapons would arrive in the city imminently.
Will Iran's "carpet weaving" succeed in Hasakah?
In recent months, Iran has followed its usual soft power policy of "weaving carpets," engineering pathways carefully and deliberately. It aims to consolidate its influence in the province by taking advantage of the anger felt by a large proportion of tribal dignitaries and civilians toward the discriminatory policies of the SDF, as well as exploiting the deteriorating economic conditions.
Notably, in the past several weeks, Iran summoned a delegation of dignitaries and tribal leaders from Hasakah, headed by Dari al-Faris al-Assaf, the sheikh of the local Tayy tribe. A day after the delegation returned to Hasakah, in a surprise move, the regime's council of tribes and clans in the eastern region announced its restructuring. Previously, the council was led by Hassan al-Musalat, a dignitary of the Jubour tribe known for his close ties to Russian forces. Al-Musalat was replaced by Dari al-Faris al-Assaf and Mahmoud al-Hasnawi was appointed as his deputy, both of whom are known for their loyalty to Iran.
What are Iran's strategic goals for expansion in Hasakah?
Iran wants to increase and consolidate its influence in Hasakah Province partly because it urgently needs to secure an alternative route for its militias through Iraq. The al-Qaim crossing near Deir ez-Zor may no longer be safe after the repeated U.S. attacks targeting the area. Expansion in Hasakah, therefore, may help to secure a second supply line in direct contact with PMF-controlled areas in Iraq: Sinjar, Rabia, and Tel Afar.
Ideologically, these land routes would help to restore what is known in the Shi'a faith as "the way of the captives," the path taken by the killers of Imam Hussein to reach Damascus, carrying his family with them as prisoners. The path extends from Kufa to northern Iraq, passes near the city of Qamishli, and goes all the way to Aleppo.
As it seeks to expand its influence in Syria's Jazira region, Iran's goal is to be an active partner in any agreement that takes place regarding the future of the broader region, especially given the recent signs of a geopolitical rapprochement between Ankara and Damascus.
Iran is openly seeking to repeat what happened in Iraq and push U.S. forces to withdraw or reduce their activities by putting more pressure on their bases. In the meantime, if the threats of Iran's proxies in Hasakah materialize through attacks on U.S. patrols, this will constitute a real challenge to the supply routes and the movement of coalition forces in the province.
Iran's goal of exploiting discontent with the SDF to gain tribal loyalty will not be so easy to achieve, however. Members of these clans are closely related to those in Iraq, which have suffered for many years from Iranian practices that threatened their identity, history, and very existence.
Signs of popular resistance from local tribesmen have started to appear in posters and leaflets around the city of Hasakah, and this may intensify in the near future. But regardless of the burgeoning signs of resistance, it remains crucial to make a serious attempt to support these movements before it is too late and Tehran finishes "weaving" its new "carpet" east of the Euphrates.
Samer Al-Ahmad is a Syrian journalist and researcher who focuses on developments in northeastern Syria. He is a master's student in international relations and has written multiple reports and research papers for Arab and international centers. You can follow him on Twitter @sameralahmadnq. The views expressed in this piece are his own.
Main photo: National Defense Commander Abdulkadir Hamo and behind him a picture of Ali al-Yasiri, the leader of the Saraya al-Khorasani. Photo courtesy of the author.
---
The Middle East Institute (MEI) is an independent, non-partisan, non-for-profit, educational organization. It does not engage in advocacy and its scholars' opinions are their own. MEI welcomes financial donations, but retains sole editorial control over its work and its publications reflect only the authors' views. For a listing of MEI donors, please click here.