Bolivia pumping nearly half the gas it used to sell to Argentina — MercoPress
Bolivia pumping nearly half the gas it used to sell to Argentina
Tuesday, June 20th 2023 – 10:28 UTC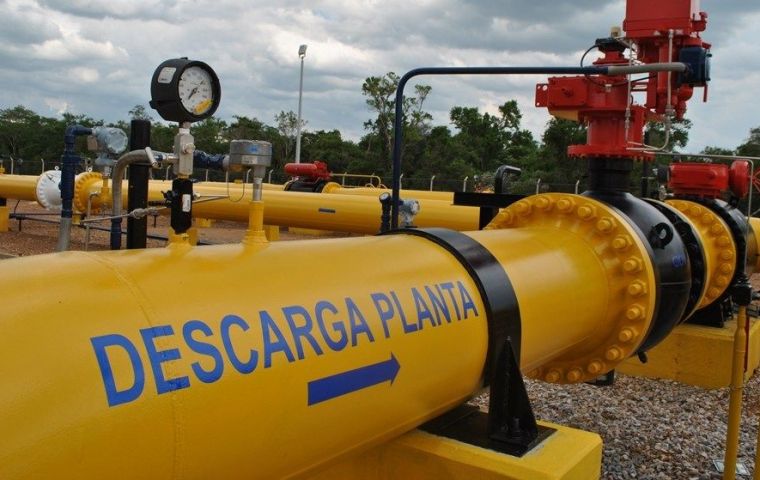 Bolivia pumped last month nearly half the gas it used to send to Argentina in May of 2022 due to output problems as demand increases due to cold weather, it was reported by El Deber citing data from the Departmental Center for Monitoring and Control of Hydrocarbons of the Santa Cruz Government and the Ministry of Hydrocarbons and Energy.
With 6.34 million cubic meters per day (MMm3/d) last month, in contrast to the 13.58 MMm3/d traded in May 2022, Bolivia sold 47% less natural gas to Argentina.
The increase in Bolivian gas demand occurs between May and September when Argentina requires larger volumes due to the low temperatures. This situation had been previously agreed upon with Yacimientos Petrolíferos Fiscales Bolivianos (YPFB).
Regarding June's performance, Argentina's Ente Nacional Regulador del Gas (Enargas) reported that YPFB has been sending an average of 9 MMm3/d of natural gas in the last six days at a time when international natural gas prices are at their highest level due to the conflict in Eastern Europe between Russia and Ukraine, El Deber also explained.
In 2022, the Bolivian state-owned company took advantage of this situation to negotiate better prices for gas exported during the winter, thus compensating for the decrease in volumes.
Raúl Velázquez, an hydrocarbons and energy analyst at Fundación Jubileo quoted by ED, highlighted that this reduction in natural gas sales to Argentina reflects the failure of the hydrocarbons exploration and exploitation programs in Bolivia, which started in 2015.
The expert pointed out that in 2006 it was agreed between Argentina and Bolivia to send 23 MMm3/d, but due to production problems, an addendum was signed in 2010 establishing an average pumping of 13 MMm3/d during the winter season.
"Subsequently, that quota was reduced due to low natural gas production. Currently, this situation forces the country to juggle to respond to the markets of Brazil, Argentina, and the domestic market. To comply with Argentina, the supply to Brazil is reduced and now the ammonia and urea plant is resorting to gas with the argument that it will be paralyzed for approximately 45 days due to mechanical failures," warned Velázquez.
José Padilla, former Secretary of Hydrocarbons of the Santa Cruz Government, said that the stoppage of the Ammonia and Urea Plant (PAU) and the sale of unused gas are examples of the difficulties YPFB faces complying with Argentina. He also highlighted the contradiction between the statements of Luis Arce's government on industrialization and the paralyzation of a plant that generates added value, opting to export raw material.
On this issue, YPFB President Armin Dorgathen admitted in an interview with Página Siete that the PAU is paralyzed and that the gas not used in the plant will be exported to the Argentine market at a more favorable price, according to ED.