A Medellin Tour With Comuna 13 and Guatape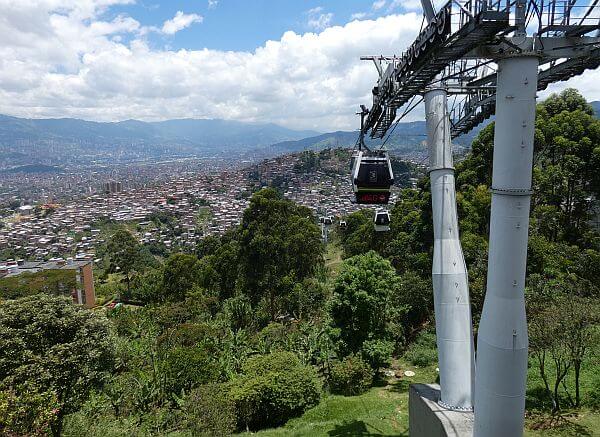 What do you do if you only have a week or less in a city and want to see what really makes the place tick? I took a Medellin tour with a company based in the region to see the highlights and get some background.
In a city of five million or more, I didn't want to take my chances trying to figure the place out on my own. I also didn't want to join throngs on a bus to head out to Penol de Guatape, the most popular excursion point in the region. So I connected with a top-rated local tour company, TWO Travel of Medellin, to get a private tour.
The company manages some luxury penthouses and pool villas (like this) in the city, which would be a great way to experience the ritziest part of the city with a group of friends, but I was flying solo on this trip. I also passed on the lounge experience they can offer, checking out the hottest nightclubs, but hopefully when I return I'll have some company for that.
A Medellin City Tour
Medellin feels like a city on the rise. It had nowhere to go but up after the darkest days of the drug lords, of course, but a gradual end to that era at first has picked up a lot of speed in the last 15 years or so. In an organic way mostly led by friends telling friends, Medellin quietly advanced to the top spot as the digital nomad capital of South America. Now that a true visa for that crowd is available, a lot of locals expect that trend to pick up the pace even more.
That's just one trend that helped the city's fortunes. It has also attracted a fair number of Colombians who were looking for an alternative to Bogota, a city that's cleaner, with better public transportation and better weather. The government seems to be more on top of infrastructure needs overall here, especially with tunnels that get people to where they need to go faster and gondolas that get residents up into otherwise tough-to-reach communities on the mountainsides.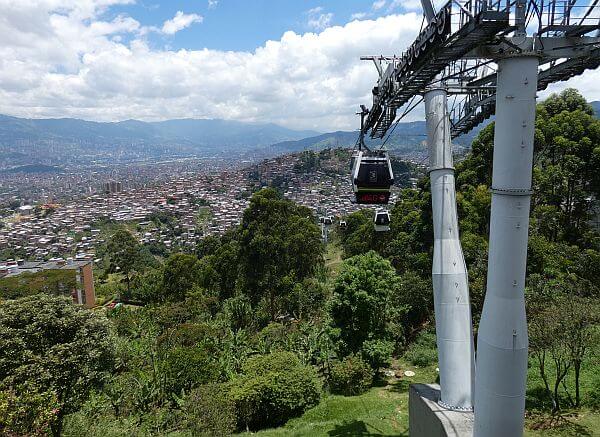 My TWO Travel guide for my Medellin tour parked near a metro station that also functions as one of the cable car stations and we headed up over the rooftops. Usually when I'm riding a gondola up a mountain it's with a pair of ski boots on, but here this is transportation, not a recreational offering.
In areas that would take an hour or two to reach by car, on dirt roads that can get flooded, these Medellin cable cars are a godsend for low-income residents who can now reach the urban valley quickly and get home just as fast, opening up many more employment opportunities.
We also got a great city view from Pueblito Paisa and Cerro Nutibara, two attractions in one. Nutibara Hill is one of the easiest-to-reach overlook points, with great views of the center of Medellin and the mountains beyond. (See the photo at the top.) Pueblito Paisa itself is a replica of a typical town in the countryside of Antioquia—though of course filled with tourist shops and services.
Exploring Comuna 13
The neighborhood of Comuna 13 represents an amazing transformation story, one that so far has a very happy ending. It's a rare example of a rough part of town getting real help from the government and creating a partnership that benefits everyone.
Back in the days when the Medellin cartel was sowing violence and the paramilitaries created even more, this part of the city was, in no uncertain terms, a dangerous slum. Murders, robberies, and extortion were common and many of Colombia's worst (and most desperate) criminals came home to here or had roots in the area. Periodically the city government would bulldoze the illegally constructed buildings on squatter land the army invaded in 2002 with paramilitary forces in an operation that left 18 dead but far more injured or rounded up indiscriminately.
Over the ensuing years, however, the city started to make amends, first building permanent community centers and other buildings, then in 2011 building the gondola system that gave the residents freedom of movement that raised their prospects. Led by a few local visionaries from the neighborhood, street artists started putting up murals with a message and the murals started attracting curious visitors.
Fast forward to now, after the installation of escalators, walkways, and more permanent shops and this is one of the city's liveliest commercial zones. The once-violent neighborhood feels safer than it ever has and it's now a must-see for visitors on a Medellin tour, a brighter story than the umpteenth telling of the Escobar legends.
This ended up being my favorite few hours in Medellin thanks to the entrepreneurial activity on display everywhere: open-air bars, street food vendors, and popsicle shops have replaced drug corners and duct-taped shanty houses, with exponentially more money flowing to the many instead of the few.
As the day was ending, I returned to Strata 6, where the other half lives, and settled into my evening at the Intercontinental Medellin. It's not often I spend time in the poorest parts of a city and the richest on the same day. In most of the world there's no official designation either, no clear demarcation about who is earning what amount. In Colombia, it's all laid out clearly in your address.
I knew a good bit about Colombia's strata system from my previous visits, but I relished the chance to get the inside scoop from a local. In basic terms, the way it works is that you move into a neighborhood–designated by a number of one to six–based on your monthly salary. If you're only making the minimum wage or less, you'll be in Strata One. If you're so rich that you're making 25 times the minimum wage or more, you'll be in Strata Five or Six. Everyone else is somewhere in between.
This is not just a way to divide and define people though: it's a progressive taxation system and a wealth distribution plan as well. Those in Strata One get lots of government services and subsidized utilities, but pay very little for any of them. Those in Strata Six pay three or four times the actual cost for electricity and water, plus of course they have the highest property tax rates. While a system like this would get howls of protest in many other countries, here it seems to generate very little opposition.
A Guatape Day Trip
I hadn't heard much about the "Peñol de Guatape" before I got to Medellin, but I couldn't get away from the image of it after arriving. The giant rock protruding up from a hillside is ubiquitous on travel agency signs, billboards, and brochures around town.
Unlike most rock monoliths around the world, however, this one has steps going up the side of it: 659 steps to be exact. They extend to a platform on top of the big rock, 657 feet up into the air. Less than two hours outside of Medellin and even closer to the airport, this popular attraction overlooks a man-made lake that overtook the lowlands when a dam shut off a river's flow.
The first set of steps went up in the 1950s, but were later replaced by reinforced concrete ones that can support a snaking line of visitors who plod their way up to the top, single-file. They still need regular maintenance: one section was under repair when I was there, forcing the up and down traffic to push past each other for one stretch.
It's worth all the huffing and puffing though. When we arrived at the top, a panoramic view stretched out before us in all directions. Unlike with many deep, natural lakes, this one is dotted with tree-covered islands and peninsulas that create a striking vista.
I really wanted to explore the area more and thankfully that was on the itinerary for our tour. Not one of the helicopter rides I saw taking off from the Peñol de Guatape parking lot, but rather a more leisurely ride on the water to see some surprises.
Lake Guatape Boat Ride
When we walked aboard with life jackets on for our Lake Guatape boat ride, I was expecting a pleasant ride around the waters to take in the scenery. I didn't expect to be reminded, once again, of Colombia's strange recent history.
When we passed a fancy hotel and collection of villas, "Guess who owns those?" my guide asked. "A very rich and well-connected family I assume," I answered.
"Yes, and a notorious one," he said. "The Orejuela brothers of the Cali Cartel didn't lose everything, The forfeited two billion dollars worth, but they were bringing in seven billion a year at one point."
As if on cue, we then rode by a crumbling mansion covered with graffiti. "One of Pablo's old properties. He came here a lot for meetings and had a few places around the lake. Nobody is supposed to be able to visit that place," he said, pointing to people walking around it, posing for photos. "You pay the right person though…" and he trailed off.
The most striking houses we saw on the lake, however, were two adjoining ones with several stories, infinity pools, and party terraces. "Those both belong to famous football players here," Arturo said. One of them married the sister of the other, so they ended up building their vacation homes next to each other.
***
Are you headed to Medellin sometime soon? Book a custom tour with TWO Travel to work with a local company and get a bilingual guide from the city.
Then search flights to Medellin from your home airport.